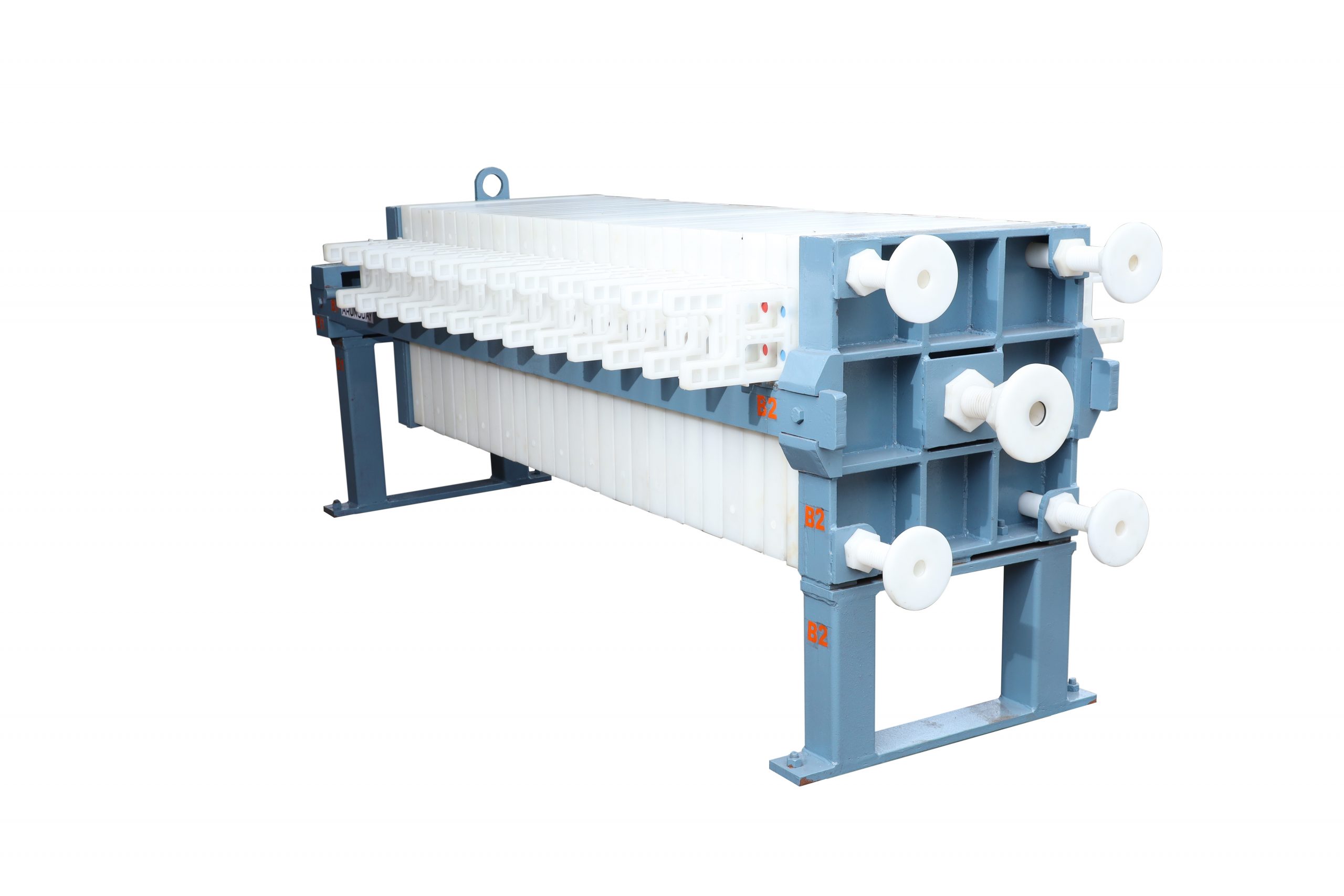 What is Filter Press ?
Filtration is a well defined Technology and is a vital operation where separation of solids from liquid become necessary, either to recover solid cake and remove unwanted liquid, or remove Toxic or other undesirable solid from waste steams or where the recovery of clean liquid or the solids is necessary in recycling of valuable elements.
Available Sizes :
355 x 355 mm
460 x 460 mm
500 x 500 mm
610 x 610 mm
915 x 915 mm
765 x 765 mm
1200 x 1200 mm
1500 x 1500 mm
Application
Dyestuff
Manufacturing of pigments, dyestuff & intermediate
Chemicals
Organic, inorganic chemicals, activated clay, precipited silica, Pesticides etc.
Ceramics
Dewatering of kaolin chalk, porcelain insulator & ceramic bulk.
Food
Production of soup, sugar, vegetable oil fruit juice and starch.
Minerals
Filteration of corrosive metallic salt solution e.g. nickel, copper, Lead, silver and gold.
Pharmaceutical
Extraction and washing of intermediate filtration of syrup.
Waste water
Dewatering and decontamination of industrial and municipal-Waste water e.g. water and sewage purification, paper, leather And textile sewages, and effluent treatment plant.
Specifications
STRUCTURE
MILD STEEL / STAINLESS STEEL
NOZZLES
PP / M.S.RL. / S.S.
CLOSING DEVICE TYPE
CAPSTAN / POWER HYDRAULIC
FILTER ELEMENTS
PP / CAST IRON / S.S.
DELIVERY
OPEN & CLOSE TYPE
WASHING
WASH / NON WASH / COUNTER CURRENT WASH TYPE
WORKING TEMP.
PP & M.S. UP TO 10 KG/Cm2 OR MORE ON REQUEST
FILTER MEDIA
PP / NYLON / POLYESTER / COTTON
WORKING PRESSURE
PP-90.C OR MORE ON REQUEST